Red Keurig Coffee Maker
8 min read
Looking for a bold and stylish coffee maker to brighten up your mornings? Check out our review of the Red Keurig Coffee Maker! This sleek and efficient machine is sure to impress with its easy-to-use features and delicious coffee options.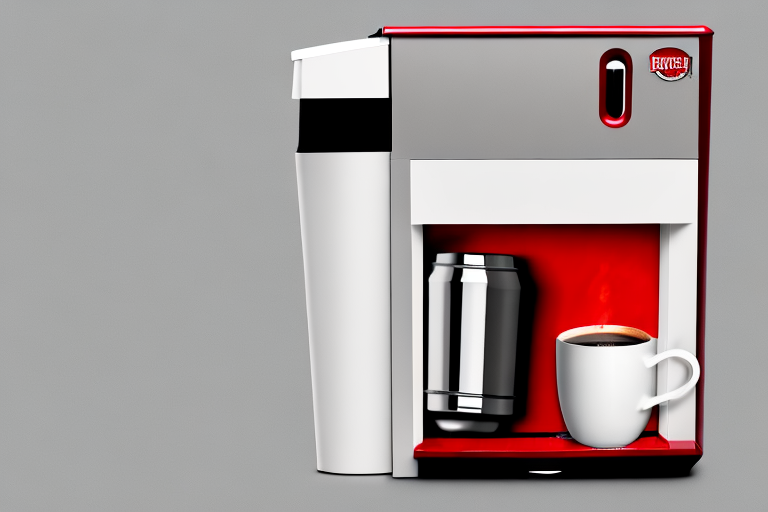 If you're a coffee lover, you know the importance of having a reliable coffee maker by your side. It not only saves you time but also ensures that you have a fresh, hot cup of coffee within minutes. The Red Keurig coffee maker is one such coffee maker that has gained immense popularity for its convenience, durability, and style. In this article, we'll dive into the world of red Keurig coffee makers, exploring the pros and cons of owning one, how to choose the right one for you, and even tips on how to save money while using it.
Discover the Best Red Keurig Coffee Makers of 2021
When it comes to choosing a Keurig coffee maker, several factors should be considered, such as the size, price, and features. Fortunately, there are many red Keurig coffee makers available in the market that cater to all types of coffee drinkers. Here are some of the top-rated red Keurig coffee makers of 2021:
Keurig K-Mini Plus
Keurig K-Classic
Keurig K-Elite
Keurig K-Supreme Plus
Each of these coffee makers has unique features to suit your coffee needs. The Keurig K-Mini Plus is perfect for small spaces or if you're always on the go. The Keurig K-Classic is easy to use and brews multiple cup sizes. The Keurig K-Elite has a strong brew setting, perfect for those who prefer a bold cup of coffee. And finally, the Keurig K-Supreme Plus comes with innovative features such as multi-stream technology that ensures consistent flavor extraction.
If you're looking for a coffee maker that can brew both hot and iced coffee, the Keurig K-Elite is a great option. It has a dedicated iced coffee setting that brews a concentrated cup of coffee that won't get watered down when poured over ice. Additionally, the Keurig K-Supreme Plus has a customizable brew setting that allows you to adjust the strength and temperature of your coffee to your liking.
When it comes to maintenance, all of these coffee makers have removable drip trays and are compatible with Keurig's descaling solution to keep them clean and functioning properly. Overall, no matter what your coffee preferences are, there is a red Keurig coffee maker out there that will suit your needs and add a pop of color to your kitchen.
How to Choose the Right Red Keurig Coffee Maker for You
Choosing the right Keurig coffee maker can be a daunting task, with so many options available in the market. However, by keeping some key factors in mind, you can find the perfect coffee maker to suit your needs. Firstly, consider the size of the coffee maker. If you have a small kitchen, a compact coffee maker like the Keurig K-Mini Plus may be a better fit.
Secondly, think about how often you'll be using the machine. If you're a heavy coffee drinker who needs multiple cups throughout the day, a Keurig coffee maker with a large water reservoir like the K-Elite might be a better choice. Lastly, consider any special features that you may require, such as a strong brew setting or the ability to make iced coffee.
Another important factor to consider when choosing a red Keurig coffee maker is the design and style. If you're looking to add a pop of color to your kitchen, a red coffee maker can be a great choice. However, make sure to choose a shade of red that complements your kitchen decor. Additionally, some Keurig models come with customizable color options, allowing you to choose from a range of shades to match your personal style.
The Pros and Cons of Owning a Red Keurig Coffee Maker
Now that we've looked at some of the best red Keurig coffee makers available let's explore the pros and cons of owning one.
Pros:
Convenient – With a Keurig coffee maker, you can have a perfect cup of coffee within minutes, without having to grind beans or make a full pot.
Variety of flavors – Keurig coffee makers offer a wide range of flavors to choose from, making it easy to satisfy your coffee cravings.
Ease of use – Brewing a cup of coffee with a Keurig coffee maker is as easy as pushing a button!
Cons:
Cost – Keurig coffee makers can be quite expensive when compared to traditional coffee makers.
Single-use – Keurig coffee makers use pre-packaged K-cups, which can create a lot of waste.
Limited customization – If you enjoy customizing your coffee by adjusting the strength or adding foam, a Keurig coffee maker may not be the best fit for you.
Another potential con of owning a Keurig coffee maker is that the coffee produced may not be as hot as you would like. Since the water is heated quickly and only for a short period of time, the temperature of the coffee may not be as high as it would be with a traditional coffee maker. This may not be a problem for everyone, but for those who prefer their coffee piping hot, it could be a drawback.
Top Features to Look for in a Red Keurig Coffee Maker
When selecting a red Keurig coffee maker, consider the following features:
Water reservoir size – A larger water reservoir means less time spent refilling the machine.
Brew strength control – Some models have a "strong brew" setting, allowing you to select a bolder coffee flavor.
Cup size options – Look for a model with multiple cup size options to suit your caffeine needs.
Compatibility with reusable filter pods – This feature is essential if you want to reduce waste and use your own coffee grounds.
Another important feature to consider when selecting a red Keurig coffee maker is the brewing speed. Some models have a faster brewing time than others, which can be especially helpful if you're in a rush in the morning. Additionally, look for a model with a removable drip tray for easy cleaning and maintenance. Finally, consider the overall design and aesthetics of the machine to ensure it fits in with your kitchen decor.
How to Maintain and Clean Your Red Keurig Coffee Maker
Maintaining and cleaning your red Keurig coffee maker is essential to ensure optimal performance and longevity. Here's how to do it:
Regularly descale your machine using a descaling solution to remove mineral buildup.
Replace the water filter every two months or after brewing 60 cups of coffee.
Empty the water reservoir after every use to prevent mold growth.
Clean the machine's exterior with a damp cloth regularly.
Run a cleaning cycle with water every few weeks to flush out any leftover coffee residue.
Aside from the regular maintenance and cleaning tasks, there are a few additional steps you can take to keep your red Keurig coffee maker in top condition. Firstly, make sure to use high-quality water in your machine. Hard water can cause mineral buildup and affect the taste of your coffee. Secondly, avoid using harsh chemicals or abrasive materials when cleaning the machine's exterior, as this can damage the finish. Instead, opt for a mild soap and water solution.
It's also important to pay attention to any warning signs that your machine may need servicing. If you notice a decrease in performance, such as slower brewing times or weaker coffee, it may be time to descale the machine or replace the water filter. Additionally, if you hear any unusual noises or notice leaks, it's best to contact Keurig customer support for assistance.
The Best Accessories to Enhance Your Red Keurig Coffee Maker Experience
If you're looking to enhance your coffee experience with your red Keurig coffee maker, consider investing in the following accessories:
Reusable K-cup pods – This will help to reduce waste and allow you to use your favorite coffee grounds.
Milk frother – Create your own lattes and cappuccinos with ease using a milk frother.
Travel mug – Perfect for when you're on the go, a travel mug will keep your coffee hot for longer and avoid spills.
Storage drawer – Keep your K-cups organized and easily accessible with a storage drawer.
Why a Red Keurig Coffee Maker is a Perfect Addition to Your Kitchen
Not only is a red Keurig coffee maker a stylish addition to your kitchen, but it also provides convenience and flexibility in your coffee-making routine. With an endless variety of K-cup flavors, you can easily satisfy your coffee cravings without leaving your home. Moreover, Keurig has become a household name and is known for its quality and innovation in coffee-making technology.
The History of Keurig and Their Innovations in Coffee Making Technology
Keurig was founded in 1992 and is based in Vermont, USA. The company quickly became a popular choice for coffee lovers with their innovative single-serve coffee pods. Keurig's coffee-making technology has continued to evolve, and the company now offers a range of products catering to different coffee needs. They've recently introduced a recyclable K-cup pod, making their coffee makers more eco-friendly.
Our Top Picks for the Best-Tasting K-Cups Compatible with Your Red Keurig Coffee Maker
With so many K-cup flavors available, it can be challenging to choose. Here are our top picks for the best-tasting K-cups compatible with your red Keurig coffee maker:
Green Mountain Coffee Breakfast Blend – A light roast with a smooth finish, perfect for starting your day.
Starbucks Pike Place Roast – A medium roast with a balanced flavor, great for any time of the day.
The Original Donut Shop Regular Coffee – A classic medium roast with a smooth finish, great for any coffee lover.
Cinnabon Classic Cinnamon Roll Coffee – If you have a sweet tooth, this light roast with a cinnamon flavor is perfect for you.
How to Troubleshoot Common Problems with Your Red Keurig Coffee Maker
Even the best coffee makers can face issues from time to time. Here are some common problems with Keurig coffee makers and how to troubleshoot them:
Total shutdown – If your Keurig machine isn't turning on, ensure that it's plugged in and the outlet has power.
Clogged needles – If your machine isn't brewing, the needles may be clogged. To fix this, unplug the machine and remove the K-cup holder. Clean the needles with a paper clip or run some hot water through the machine.
Inconsistent brew – If your coffee tastes off or weak, try cleaning the machine with a descaling solution, or ensure that you're using the correct cup size setting.
Save Money on Your Morning Brew: Tips and Tricks for Using Your Red Keurig Coffee Maker Wisely
Using your red Keurig coffee maker wisely can help you save money on your daily coffee needs. Here are some tips and tricks:
Buy K-cups in bulk – Buying K-cups in bulk can save you money in the long run.
Use the correct cup size setting – Avoid using the larger cup sizes if you only need a small cup of coffee to save on K-cups.
Use filtered water – Using filtered water can reduce mineral buildup in the machine and increase its lifespan.
Clean the machine regularly – Regular cleaning of the machine ensures optimal performance and reduces the need for repairs.
Conclusion
Overall, a red Keurig coffee maker is a perfect addition to any coffee lover's kitchen. With its convenience, easy-to-use design, and innovative features, Keurig coffee makers have become a household name. Be sure to choose the right model for your needs, maintain and clean your machine regularly, and invest in some essential accessories to enhance your coffee experience.