The Complete Guide to Keurig Coffee Makers
12 min read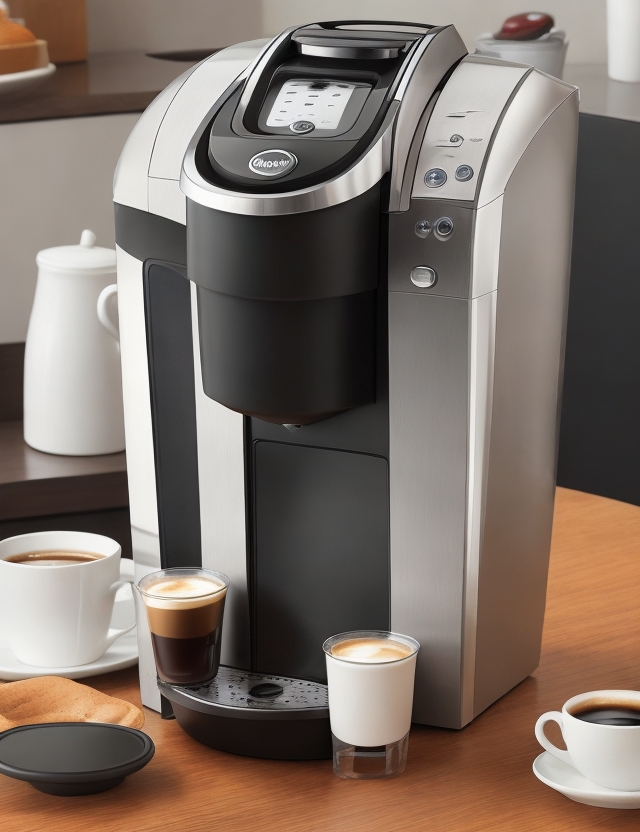 Keurig coffee makers have become synonymous with convenient single serve brewing. With over 60 different models and endless beverage options, Keurig dominates the personal coffee machine market. This comprehensive guide covers everything you need to know about choosing, using and maintaining these popular pod-based brewers.
What is Keurig?
Keurig is a pioneer in the world of single serve coffee makers. The company was founded in Massachusetts in 1992 and originally developed office brewing systems before launching their innovative K-Cup pods and home brewers in the late 1990s.
In 2006 Keurig was acquired by Green Mountain Coffee Roasters, which helped propel rapid growth and expansion. Today Keurig Dr Pepper owns the Keurig brand, which produces nearly $11 billion in annual sales.
Keurig disrupted the coffee industry by perfecting pod-based brewing technology that allows you to brew a fresh, customized cup at the push of a button. Their patented K-Cups come in over 400 varieties of coffee, tea, cocoa and other beverages from 75 brands, delivering convenience and variety.
Keurig offers dozens of consumer models from compact single serve machines to high volume brewers for offices. If you're looking for an easy way to enjoy coffeehouse-quality drinks at home, Keurig aims to make your mornings a little more magical.
Why Buy a Keurig Coffee Maker?
Keurig coffee makers have changed the way people brew and enjoy coffee at home. Here are some of the reasons why these innovative single serve machines have become so popular:
Single Serve Pod Convenience
Pop in a pod, push a button, and you've got a perfect fresh cup of your favorite coffee or beverage in under a minute. No measuring, no grounds to clean up, and no wasted coffee. The single serve pod system is convenient and practical for home use.
Variety of Beverage Options
With literally hundreds of K-Cup pod varieties available, Keurig allows you to enjoy everything from bold dark roast coffee to soothing herbal teas. Try seasonal flavors, iced coffee, hot cocoa, chai, and more. There's a pod for every taste and occasion.
Speed and Simplicity
In about 30 seconds, your Keurig heats the water and delivers a customized cup just the way you like it. The intuitive interface makes it easy for anyone to operate with minimal effort and time.
Compact Size
Keurig brewers are designed with compact footprints perfect for small kitchens, apartments, dorm rooms and offices. Models like the K-Mini take up less than 5 inches of counter space.
Energy Efficient Operation
Keurig machines automatically turn off 2 hours after your last brew, helping to save electricity. Some models like the K-Mini have auto power modes that activate as soon as you insert a pod.
Programmable Features
Many Keurig models allow you to adjust brew strength, size, and temperature settings to customize your drink. You can set a timer so your coffee is ready when you wake up.
Consistent Taste You Control
With Keurig, variables like water temperature and brew times are precisely controlled to extract the best flavor consistently. Choose your ideal strength and size for every cup.
Types of Keurig Coffee Makers
With over 60 single serve coffee maker models, Keurig offers options for every space and budget. Here is an overview of the most popular home brewer types and models:
Single Serve K-Cup Pod Coffee Makers
These slim personal brewers can only accommodate K-Cup pods. They heat water and pass it through the pod to brew directly into your cup.
K-Mini Basic
Under 5" wide, this petite model fits anywhere and only needs 6" clearance to open the top. Choose 6-12 oz brew sizes and enjoy the simplicity of one-touch operation.
K-Classic Original
The simplicity, affordability and reliability of the K-Classic make it Keurig's #1 best-selling home model. Brew 6-10 oz and enjoy convenient cord storage.
K-Cafe Specialty
Make coffeehouse drinks at home! The K-Cafe can brew coffee, lattes and cappuccinos using any K-Cup pod and fresh milk.
K-Duo Essentials
Brew a single serve cup or a full carafe with the versatile K-Duo. It's the best of both worlds with K-Cup pods or grounds.
K-Compact
Just 10.5 inches wide, the K-Compact delivers full flavor in a slim frame. Store cords in the recessed rear compartment to save space.
K-Select
Program cup size, strength and temperature with this versatile machine. The strong brew button intensifies flavor for bolder drinks.
K-Supreme Plus
The high-end luxury model has a removable water reservoir, temperature control, quiet brew technology and useful iced settings.
Classic Series Coffee Makers
These budget-friendly machines offer a simple interface without advanced features and settings.
K250 Classic
This affordable model in matte black or white has a 48 oz reservoir and simple one-touch operation.
K450 Plus
A step above the classic line, the K450 features black and chrome accents and a 70 oz reservoir.
Plus Series Coffee Makers
Moving into the mid-tier category, the Plus Series offers additional conveniences.
K550 Plus
With a massive 80 oz reservoir, the K550 Plus can brew over 10 cups before refilling. The strength button allows you to customize intensity.
K560 Plus
In addition to the largest water tank capacity, the K560 Plus has a bright night light, dishwasher safe parts and an auto on/off feature.
Commercial Brewers for Offices
Need to keep an entire office fully caffeinated? Keurig commercial brewers deliver batch brewing power and performance.
Keurig K150
This single cup commercial brewer allows back-to-back brewing for high demand environments. It has touchscreen controls and 75 oz reservoir.
Keurig K155
Offering the same features as the K150 but with a massive 90 oz reservoir, the K155 provides all-day operation.
Keurig K3000SE
This high volume model has three temperature settings and can brew up to 12" travel mugs. The interface alerts you when maintenance is needed.
Keurig K3500SE
Ideal for large offices, the K3500 has a 5" touchscreen, 500 cup capacity, and can fill 7" to 16" cup sizes using K-Carafe pods.
K-Café Specialty Coffee Maker
Transform into your own barista with the K-Cafe! It opens up a world of specialty drinks using any K-Cup pod.
Brew Fabulous Coffeehouse Drinks
The K-Cafe doesn't just brew coffee. It makes lattes, cappuccinos, macchiatos and more using its dishwasher safe milk frother.
Versatile Milk Frother
The frother whisks any fresh milk into a light silky foam for impressive specialty drinks. It can also heat milk on its own.
Intelligent Pre-Heating
Thanks to a smart start system, the K-Cafe heats then maintains the optimal temperature so it's ready to simultaneously froth and brew.
Rivo Cappuccino and Latte System
For authentic espresso-based beverages, the Rivo delivers café quality drinks at home.
Real Espresso Experience
With 15 bars of pressure, the Rivo perfectly extracts espresso shots from ground coffee to use in lattes, cappuccinos, evenAffogatos poured over ice cream!
Powerful Steamer
The powerful steam wand expertly froths milk for silky, creamy foam on top of your lattes and macchiatos.
Coffeehouse Drinks
Use your own fresh beans and milk to create all your café favorites at a fraction of the price. Make Americanos, mochas, Frappuccinos and more!
K-Duo Essentials Single Serve & Carafe Coffee Maker
Offering the best of both worlds, the K-Duo allows you to brew single serve K-Cups or a full carafe using ground coffee.
Pod or Carafe Brewing
Innovative 2-way functionality allows you to brew both 6-12 oz single serve cups or an entire 12-cup glass carafe.
12-Cup Glass Carafe Included
The K-Duo includes a durable glass carafe with ergonomic handle and drip-free pouring spout.
Strength Flexibility
No matter which brewing method you use, take control with strong and regular strength options.
K-Select & K-Elite Coffee Makers
Representing Keurig's high-tier home models, the K-Select and K-Elite balance simplicity with customization.
K-Select
Using a simple dial control, the K-Select allows you to adjust brew size, strength and temperature with effortless operation.
K-Elite
With a color touchscreen and digital clock, the K-Elite allows you to program time, size, temperature, and strength with precise customization.
Both models feature useful hot water on demand, removable drip trays, and quiet brew technology. The elite stylish design will be a standout on your countertop.
Features of a Keurig Coffee Maker
While individual models differ, most Keurig machines contain the following key features that contribute to consistently great tasting coffee:
Brew Sizes
No matter which brewer you choose, you can adjust the brew size to your preferred cup measure:
4 oz cup setting for espresso and small cups
6 oz for a small mug
8 oz for a medium cup
10 oz for a generous mug
12 oz for a large travel tumbler
Look for an adjustable drip tray to accommodate different cup capacities.
Temperature Control
The ideal coffee brewing temperature is about 192°F. Most Keurigs default to this optimal temperature, but some models allow you to adjust from 187 – 197°F.
Removable Reservoir
Having a removable water reservoir makes refilling easy and convenient. capacity ranges from 46-90 oz but most hold 60-80 oz. Look for flip top lids, clear viewing windows and water level markings.
Water Filtration
High-end models may include external or internal water filters to remove impurities and improve taste. You can also add third-party brand water filters.
Auto On and Off
Most models have auto power saving modes that turn off the machine after 2 hours of inactivity. Auto on features let you wake up to hot coffee.
Descaling Solution
To keep your machine running optimally, regular descaling using Keurig cleaning solutions will remove mineral buildup from water.
Removable Drip Tray
Being able to remove the drip tray makes cleanup easy and allows you to fit travel mugs. Look for rubber sleeves that minimize slipping.
Quiet Brew Technology
If you want a peaceful morning coffee ritual, seek models with Keurig's quiet brew technology like the K-Elite that minimize disruptive noise.
Benefits of K-Cup Pods
While you can use your own ground coffee in some Keurig models, the popularity of K-Cups stems from the convenience, variety and quality they offer:
Single Serve Freshness
K-Cup pods are sealed for freshness. Brewing one at a time eliminates waste and the need to store open boxes of coffee that lose flavor.
Huge Variety of Flavors
With over 75 brands and 400+ pod varieties available, you can sample different roasts, intensities, regions, and flavors every day.
Different Roast Levels
Find light, medium and dark roasts from leading coffee brands. Whether you like bright, smooth or bold coffee, there's a pod to match.
Decaf and Flavored Options
The pod system lets you enjoy decaf, reduced acid, flavored, iced and limited edition coffee options that would be impractical to buy for brewing whole pots.
Tea, Cocoa and Specialty Beverages
K-Cups encompass far more than just coffee. You'll also find tea, matcha, hot cocoa, chai, iced beverages, apple cider, soup broths and more available as pods.
Recyclable and Compostable
Look for recyclable K-Cups and biodegradable pods. You can also add reusable filters to fill with your own grounds.
Convenient Customization
The pod-based system allows you to easily tailor the type of coffee, flavor, and strength to create your perfect customized cup.
Coffee and Beverages
One of the best aspects of Keurig machines is the wide selection of beverages you can brew to suit any taste:
Coffee
You'll find regular and extra bold K-Cup coffee pods in all the most popular varieties: breakfast blends, Colombian, dark roasts, espresso, French roast, house blends, and much more.
Iced Coffee
Brew your favorite coffee pod over ice for refreshing iced coffee. Some machines like the K-Supreme include a strong brew setting specifically for iced coffee.
Cold Brew Coffee
Steep your own smooth cold brew concentrate using grounds in the Keurig carafe models. Store it in the fridge and pour over ice whenever you need a cold coffee fix.
Lattes and Cappuccinos
The K-Cafe and Rivo models can transform your black coffee into creamy lattes and foamy cappuccinos with steamed milk.
Espresso and Ristretto
Using an espresso roast pod and the smallest 4 oz brew size can mimic a shot of espresso. For a sweeter, bolder option, try a ristretto pod.
Hot Chocolate
Nothing hits the spot like a steaming mug of rich hot cocoa topped with marshmallows. Look for Swiss Miss and other hot chocolate K-Cup varieties.
Herbal and Wellness Teas
Not in the mood for caffeine? Choose from a wide array of relaxing herbal teas in K-Cup pods. You'll find chamomile, peppermint, earl grey and more.
Use Ground Coffee
The K-Duo and K-Cafe models allow you to brew using your own ground coffee instead of pods in the reusable filters.
Cleaning and Maintenance
To keep your Keurig brewing properly, make sure to follow the recommended cleaning and maintenance steps:
Regularly Descale
Run a vinegar based descaling solution through your machine every 3-6 months to prevent mineral buildup that can affect taste and performance.
Clean Water Reservoir
Every few weeks, empty the water tank completely, wash with mild soap and rinse thoroughly as it can collect residue.
Rinse K-Cup Holder
The pod holder where the needles puncture can collect grounds. Rinse this piece with water after brewing is complete.
Wipe Exterior
Use a damp cloth to wipe down the exterior as needed. Check the drip tray and remove any remaining liquid.
Inspect for Leaks
Examine around the water tank, pod holder, and piercing needles for any drips or leaks indicating potential clogs.
Remove Mineral Deposits
In hard water areas, calcium deposits may build up in the water reservoir. Remove these using descaling solutions.
Disassemble Parts
Depending on your model, you may be able to disassemble parts like the frother, drip tray, and reservoir for deeper cleaning.
Troubleshooting Common Problems
Like any appliance, Keurig brewers may experience some issues, but most are quite easy to troubleshoot:
Coffee Not Hot Enough
If your coffee isn't hot when brewed, descale your machine, preheat it, increase the temperature setting, and rinse the inner workings.
Leaking
Check for leaks around the pod holder, reservoir, tubing and piercing needle. Clean any debris clogging puncture points.
Error Codes on Display
Consult your owner's manual for the meaning behind any flickering lights or error codes displayed so you can resolve the issue.
Problems Inserting or Ejecting Pods
A dirty pod holder or malfunctioning puncture needles could prevent you from fully seating pods in the holder. Clean and inspect for obstructions.
Brew Interrupted Mid-Cycle
If brewing stops mid-cycle, check if the reservoir is empty and needs refilled or if there are blockages preventing water flow.
Milk Frother Not Working
If you experience problems with milk frothing, clean the frothing wand fully, inspect for clogs, and ensure you are using appropriate milk types.
Contact Customer Support
Don't hesitate to contact Keurig's customer support online, by phone or through live chat if you experience any performance issues or have questions.
Purchasing Your Keurig
Ready to buy your new Keurig? Here are some useful tips as you shop for the perfect single serve coffee maker:
Warranty Protection
Make sure to register your warranty so you are protected in case of defects. Most models come with a 1 year limited warranty.
Buy Direct or From Retailers
Purchase directly from Keurig online or find affordable deals from leading retailers like Amazon, Bed Bath & Beyond, Target and more.
Look for Promotions and Sales
Sign up for Keurig emails to take advantage of seasonal promotions, bundle offers and discounts on coffee makers and pods.
Shop Clearance Outlets
Check outlets like Marshalls, TJ Maxx and Ross for steeply discounted older model Keurig brewers and K-Cup pod packs.
Read Reviews
Here's the rest of the article:
Read Reviews
Check reviews on retailer sites as well as specialized coffee sites to learn pros and cons from actual owners before selecting your model.
Purchase Extras
Stock up on varieties of K-Cup pods according to your taste preferences so you always have options on hand.
Buy Reusable Filters
To use your own fresh ground coffee, purchase reusable mesh filters that work in the K-Duo, K-Cafe or other compatible models.
Get a Travel Mug
Pick up an insulated stainless steel mug with lid that fits under your Keurig spout to take coffee on the go.
Add a Water Filter
Using high-quality water filters improve purity and taste. Opt for Keurig's official filters or compatible brands.
Descaling Solutions
Keep descaling solution on hand for periodic cleaning and maintenance as directed in your owner's manual.
Add a Frothing Pitcher
If you plan to make large frothy drinks, add a stainless steel frothing pitcher to your accessories.
Extra Carafes
Purchase additional replacement carafes for the K-Duo so you always have a clean one ready.
Final Takeaways
Keurig revolutionized the way people brew single cup coffee at home. With smart technology that optimizes temperature, pressure and flow, Keurig makers deliver fast and flavorful customized drinks just the way you like.
Maintenance is minimal but be sure to descale regularly and follow cleaning guidelines. K-Cup pods offer unbeatable convenience and variety. Overall Keurig coffee makers are an excellent option whether you're buying your first machine or looking to upgrade your existing model.